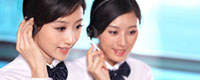 Name: Catherine Chang
Tel: +86-22-60688057
Fax: +86-22-58136206
E-mail: info@unionpro.cn
Add: 1-5206,A zone, No. 6 huafeng road, Huaming Industrial Park,Dongli, Tianjin


Unionpro Food Machinery is a professional supplier specially engaged in fields of refrigeration units and food processing machinery such as quick freezing equipment, defroster (air defrosting),food transferring& cooling conveyor, hamburger /chicken nuggets processing line, packing machine, frying machine, drying machine, vegetable& fruits washer, peeler, potato chips machine and so on.
The company has a high-quality professional and technical engineer team, with excellent marketing team and domestic partners.Powerful, professional research and development team , advanced, perfect sales service concept, making our company 's products at home and abroad, have high visibility and market share. Our products have been exported to America, Australia, South Africa, South Asia, Canada, Ecuador and so on with a good reputation among our customers. Our idea is very simple, that is: we only supply the best machines with the most competitive price and good service. We believe we must be peerless because we pay more attention to the quality and customers' requirements.
Find out more about Unionpro Food Machinery on the following pages – and see what we are doing and what we can do for you.